Donavan R
Can AR Kickstart the Demand for Fashion NFTs?
It's a thoroughly over-the-top puffer jacket with anime ears on the hood, hologram inserts and a surreal jellyfish texture, accessorised with a levitating necklace. Designed by fashion studio Rtfkt, it's called a Metajacket and it's an augmented reality NFT. Six months ago, in a 24-hour auction, it fetched a price of $57,323.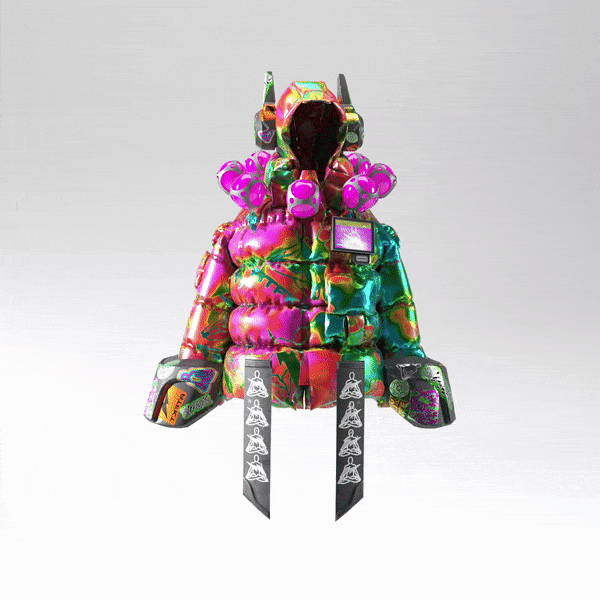 NFTs, as the fashion world is rapidly coming to understand, are digital assets, which can include fashion or artworks. Short for non-fungible tokens, NFTs are stored on blockchain and certified as unique. And luxury brands would love them to prove their worth with consumers.
AR may be one means by which fashion NFTs can prove valuable. Dolce & Gabbana is expected to give renewed momentum to this view with the launch of its Collezione Genesi of NFT wearables, expected to include AR, on 28 August. To date, established luxury fashion brands have not had much success in pushing NFT prices into eye-popping territory: Gucci's horse painting sold for just $5,000 over its initial price of $20,000, while NFTs created by luxury suitcase company Rimowa's sold for $1,000.
Now, as the initial NFT hype wave crests, brands are exploring different options. In-game NFTs have proven successful among brands including Louis Vuitton and Burberry; $395,000 worth of Burberry NFTs sold out on Mythical Games' Blankos Block Party in a few minutes. Augmented reality is emerging as another early winner that can serve as luxury's entry point to NFTs, thanks to engaging nature and real-life applications. Experts say getting these use cases right is essential if fashion NFTs are to command the same prices as, for example, real-life Birkins.
"The ultimate goal of an NFT, be it an avatar, image, outfit or trading card, is to have both financial value and utility over the long term," says venture capitalist Matthew Ball, whose influential metaverse essays have become the go-to metaverse guide for tech executives, including Mark Zuckerberg. "That's difficult to design."
The AR component of Dolce & Gabbana's NFTs has yet to be confirmed, but Shashi Menon, whose company Unxd partnered with Dolce & Gabbana on the project, says they "took a serious look at AR and what it could potentially look like in the fashion space". The NFTs will include haute couture pieces with virtual components, designed personally by Domenico Dolce and Stefano Gabbana.
How AR improves NFTs for fashion
The use of AR opens up a number of possibilities. At its most adventurous, AR could allow people to wear simple bodysuits in real life and view each other's fashion NFTs through AR glasses, which overlay extra information onto a user's real-world scene.
Rtfkt, arguably the most successful NFT fashion brand, recently posted a video of people walking around New York City wearing Rtfkt's clothing in AR, including its Metajacket, from the point of view of a person wearing AR glasses.
"We believe that AR will be the next paradigm shift that will completely change personal style and fashion in the next 10 years," says Rtfkt co-founder Benoit Pagotto.
"NFTs combined with the future release of consumer-ready AR glasses will enable that revolution to happen."
Given that AR glasses are not yet in common usage, most of today's AR applications revolve around using AR to superimpose digital clothing using phone cameras for sharing on social media, which is commonly built off Snapchat's AR technology. Brands that are making the foray into AR NFTs say it's currently appealing mostly to early adopters and crypto-savvy fashionistas. The current user experience is somewhat basic, but the technology is improving quickly.
NFT marketplace The Dematerialised is currently hosting an NFT sale for Soulland, a Copenhagen-based menswear brand. The NFTs, all of a pink floral suit, range in price from €13 to €5,000, depending on what utility the buyer wants to get out of the NFT. All NFT buyers receive access to a USDZ file, which, when opened on iOS devices, shows the suit in AR on a user's camera app.
"One of the criticisms about NFTs is the 'so what?' factor," says Karinna Nobbs, co-CEO of The Dematerialised. "People think that NFTs have already had their moment, or that it's just a cash grab. We're trying to provide multiple utilities to our NFTs, even though they are quite rudimentary at this stage, so people can say 'look at what I spent my money on'."
DressX, a startup with a mobile app that offers an AR wardrobe both women and men can 'wear' and then share to social media, unveils a partnership with Crypto.com on 24 August. The initial collection is SpaceX and Elon Musk-inspired fashion NFTs, which customers can purchase on the Crypto.com NFT marketplace starting 29 August. After purchase, customers can use the DressX app to showcase themselves wearing a selected outfit in AR. While the usual DressX outfits are unlimited in quantity, the NFT outfits are limited and available in AR exclusively to the owners of the NFTs.
Creating high-value demand
The question is, why have an NFT component, which by definition constrains the number of AR outfits that can be sold? After all, Epic Games made $50 million off one set of Fortnite outfits, which were unlimited in supply.
Matthew Ball says that current consumer in-game spending is actually constrained because any items, goods, or currencies purchased in the game can only be used on that specific platform and the user doesn't actually own the in-game outfit. On the other hand, because NFTs are built on public blockchain infrastructure and aren't the provenance of a company, they hold the key to mimicking real-world scarcity and true ownership that enables goods to be sold at high prices.
Ball highlights the example of Larva Labs, which has used NFTs to issue CryptoPunks avatars that have sold at prices up to $11.7 million, hundreds of thousands times greater than avatars in hit games like Fortnite.
He points out that companies will need to collaborate to figure out how to make the NFT useful to consumers in many different ways. "As the utility or usefulness of a purchase goes up, consumers will spend more on it," he says. "The longer a customer believes it will be useful, the more places they can use it, the more they will spend on it."
Emma-Jane MacKinnon-Lee, CEO of fashion NFT marketplace Digitalax, says that she is focused on providing multiple use cases to NFT owners. Digitalax sold several versions of the Rtfkt Metajacket, and the buyers received a digital art piece, AR version to try-on digitally and a gaming skin.
"We can imagine a lot more innovation happening, for example thinking of clothes powered with AI and evolutive representations, changing according to social interactions, moods, live events or the weather," Rtfkt co-founder Pagotto says. "You can already see this happening in Fortnite with dynamic skins, and that's some of the vision we're executing on daily with our NFTs and creations at Rtfkt."
Article by: https://www.voguebusiness.com/technology/can-ar-kickstart-demand-for-fashion-nfts