Eugenie Mae
Walmart Embraces Augmented Reality This Holiday Season
Walmart.com and its subscription service Walmart+ are keeping the focus online as holiday shopping season gets underway.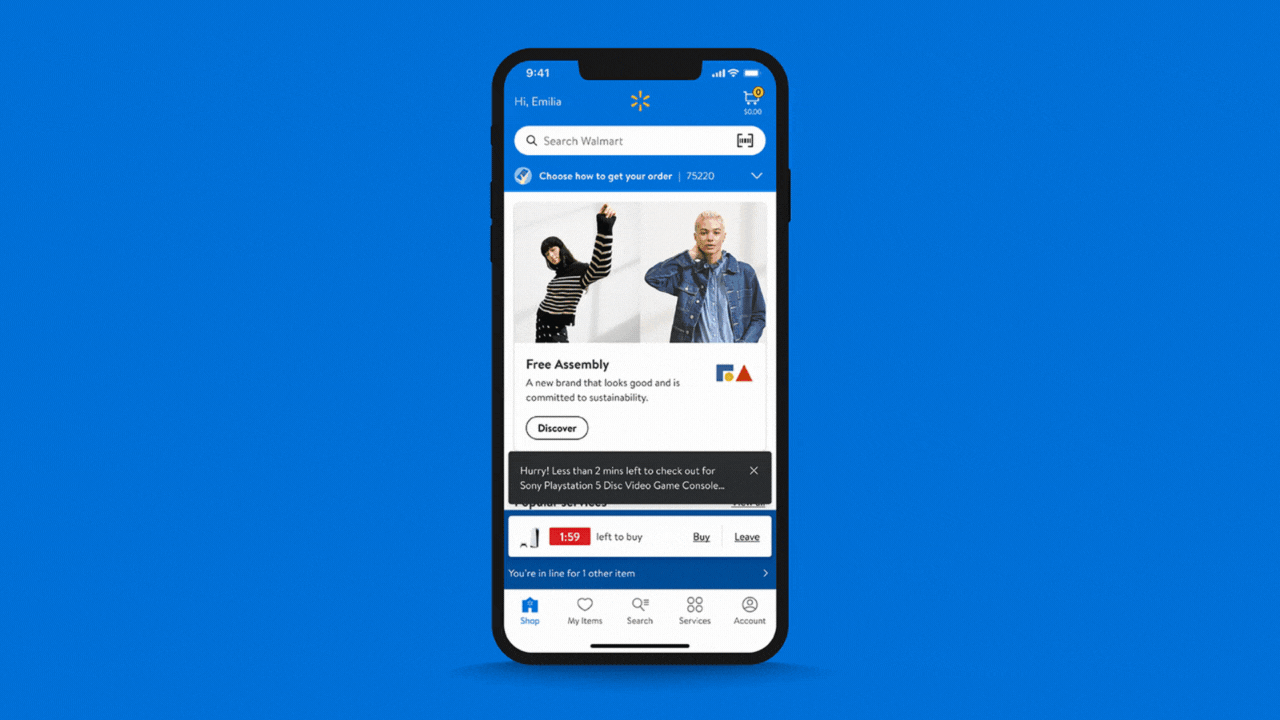 One key new feature gives shoppers the ability to stand in line virtually for a chance to purchase a hot new product during Black Friday and other holiday-oriented sales events. While you're in that virtual queue, you can still go off and shop for other products while still holding your spot for whatever in-demand toy, game, gaming device, tablet, or TV you simply must get your hands on.
This new feature will ensure that customers get to know when they're in line, their estimated wait time and how long they have to checkout to guarantee an item. On top of that, when applicable, Walmart will hold the customer's spot in multiple queues at once just in case they're looking to purchase multiple different high demand items.
"During the hustle and bustle of the holiday season, we know that time is incredibly valuable and we want to simplify the shopping process as much as possible, so our customers can spend their time where it really matters"
In spirit of the holiday season, Walmart puts emphasis on the gift of gifting with confidence through personalised experiences. Speaking of TV, Walmart is also upping its augmented reality and virtual reality offerings, this time with the View in Your Home service. Over 200 TVs are now available to view on Walmart's iOS app. The augmented reality feature lets users place the TV virtually in their home to see how it looks – or if it fits in the designated space – before purchasing.
The digital-forward technology Walmart is rolling out also spans across to its fashion offerings, allowing customers to use virtual reality to virtually try on clothes via the Walmart app.
Its upgraded Stylitics outfitting section adds clothing and accessories for men, kids and babies, suggesting accessories to go with a piece of clothing a shopper chooses. This feature makes over 8,000 items available for 16,000 outfit variations for customers to personalise with.
Additionally, a "buy it now" button, similar to one sites like Amazon have had for, well, decades, will allow customers to immediately buy a product from the product page instead of just adding it to their shopping cart.
"The closest store to our customer is in their pocket, and they can trust us to make it easy for them to save time, save money, and, ultimately, live better this holiday season," says Brock McKeel, Senior Vice President, Site Experience, Walmart eCommerce.
This is all part of Walmart's efforts to compete on a more level digital retail playing field with Amazon. Walmart's been furiously upgrading Walmart.com and Walmart+, the latter especially with the addition of Paramount + streaming.