Eugenie Mae
4 Brands That Nailed Augmented Reality
Since Apple's launch of its ARKit development tool for iOS 11 in 2017, brands have since been incorporating augmented reality to stand out when engaging with customers. Here's a list of examples from your favourite global brands who's nailed AR technology effectively:
Snapchat
Snapchat's Catalog-Powered Shopping Lenses give brands the ability to use AR at scale. Its new format combines commerce catalogs with the personalisation and performance of AR try-on and product visualisation, resulting in multiple products from a product catalog in a single lens. Shopping lenses pull in item-level information from a catalog and visually presents it in the new Lens Product Cards, a user interface for shopping. As a product catalog gets updated, its shopping lens will automatically reflect its latest products available for customers.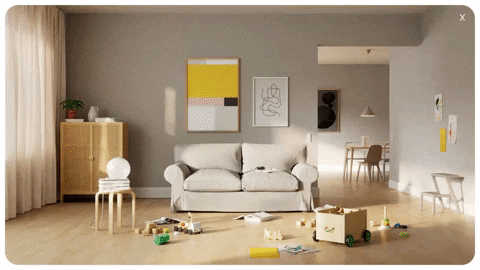 Ikea Studio
Within its own realm, Ikea's Place app was a first-mover when it came to adopting augmented reality. The app used technology to let customers place furniture anywhere in their environment. Now, the revamped Ikea Studio is a live project that allows consumers to measure, style, and share the spaces in their homes. Using a smartphone's LiDAR sensors for detailed 3D info, Studio will enable users to create detailed floorpans, explore dynamic lighting (turned on or off in AR for photorealistic virtual scenes), and more.
Nike
Nike has also deployed AR in multiple campaigns. At its "House of Innovation" store in New York City, Nike provided shoppers with an AR-based challenge. Collaborating with technology provider Hovercraft, Nike created a gamified discovery centre for shoppers to interact with virtual wildlife and progress through a series of AR-based challenges, joined by an AR mascot in Nike's All Conditions Gear collection.
Nike also partnered with Omnivor Holograms for the Virtual View feature, offered via Finish Line and JD Sports athletic apparel stores. Nike Virtual View lets shoppers match their size and body type with holograms to virtually try on apparel.
L'Oréal - Modiface
L'Oréal acquired Modiface, a developer of augmented reality and artificial intelligence for the beauty industry. The collaboration then provided the technology to enable the first virtual try-on for cosmetics on Amazon. Shoppers on Amazon can use the front-facing camera on their mobile phone to digitally try on lipstick shades in a live video of themselves or on a selfie.